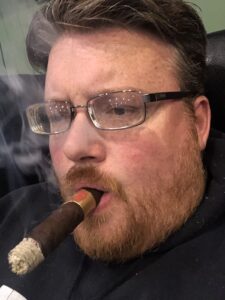 Nick – The Bishop of the Burn
Nick had one or two cigars in the past, but really began his cigar journey in July 2018 when he and Gator visited the Montecristo Lounge in Caesar's Palace, Las Vegas. It was there he picked out a Montecristo White Vintage Connecticut Double Corona (6.25×50) and everything changed. Since then, Nick has become a regular cigar smoker and has tried as many different cigars as he can get ahold of. His palate tends to prefer medium to full bodied cigars, but he can appreciate a good mild cigar to start the day. 
Favorite Cigar: Perdomo Reserve 10th Anniversary Champagne super toro
---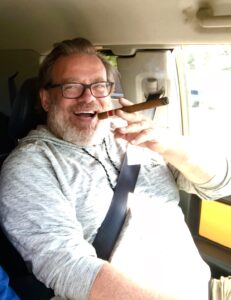 Jeff – Gator
In a far away galaxy, a scientist and his wife placed their son in a rocket and launched it away just before the child's ulcerative colitis kicked in and destroyed the planet with noxious gas. Once he reached Earth, a kindly farm couple in southern Illinois adopted him, teaching him how to locate road fruit and play around with explosives. 
Fifty years later, Gator prides himself on his media empire consisting of four newspapers and a radio station and his willingness to smoke anything given to him. He rarely has a cutter or lighter, so can often be found biting the end off of his cigar and lighting it by rubbing two rocks together for sparks. Gator's palate prefers mild cigars, specifically shade grown Connecticut.
Favorite Cigar: My Father Flor De las Antillas
---